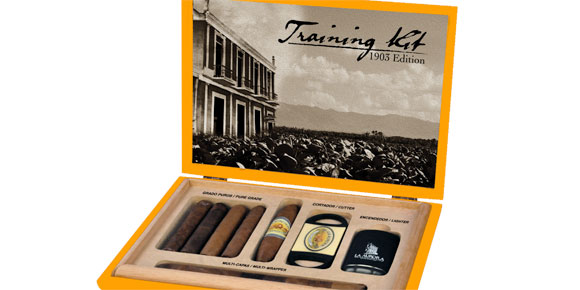 [ Publicidad ]

La Aurora, the original cigar factory in the Dominican Republic, took the IPCPR New Orleans for the release of its new La Aurora Training Kit Emerald, a unique product and absolutely innovative in the tobacco world, which consists of a simple and portable cigar tasting seminar.
The seminar box contains four "grado puro" cigars, one La Aurora 1903 Edition Emerald Doble Figurado #3, a multiwrapper cigar, a cutter, a lighter, a booklet of instructions and a DVD of Guillermo Leon, president of the Aurora, with tips to optimize the smoke.
La Aurora Training Kit Emerald is not a seminar design exclusively to novice smokers, but to all those who want to go deeper into the world of sensory tasting of cigars or who wants to organize their own cigar tasting event and share it with other smokers, without the need of the assistance of a brand Ambassador or a brand representative.
The "grados puros"
The first step is smoking the "grado puro" cigars. The "grado puro" cigars or "perritos" are sticks made of a single variety of tobacco. They are usually rolled by growers and master blenders to test the tobacco quality, the state of curing or to rebalance the blend of a cigar. In La Aurora Training Kit Emerald consumers will be able to find a "corona" made only of "seco" leaves, one of "viso" leaves and two more made of "ligero", all of them, of course, long filler and 100% handmade.
La Aurora 1903 Edition Emerald
These four tobaccos, presented in the "grados puros", actually compose the blend of the fifth cigar that La Aurora Training Kit Emerald offers: one Doble Figurado #3 of La Aurora 1903 Edition Emerald, with Dominican Cibao Valley binder and a shiny, oily wrapper from Ecuador, Sumatra seed.
The idea of La Aurora training kit, which makes it unique, is to try first the "grados puros", share with the other smokers the sensations and nuances, easy to find in the nose with the help of the booklet and, then, smoke the whole Emerald Doble Figurado to find out of all those nuances and flavors captured before, that will be easily identified in a clear and direct way.
The multiwrapper cigar
La Aurora Training Kit Emerald comes complete with a multiwrapper cigar in churchill size, which shows the definitive influence of the wrapper on the flavors. The cigar starts in the head without wrapper (only filler and binder) to go one by one burning a Connecticut (Ecuador), Cameroon (Ecuador), Sumatra (Ecuador), Arapiraca (Brazil), Broad Leaf (USA) and finally a Corojo from Cibao Valley (Dominican Republic) wrapper. The way the wrappers are consumed, the smoker will feel a very remarkable variety in flavors and aromas.
All the mechanics for using La Aurora Training Kit Emerald comes fully explained in the booklet, so it is unnecessary the presence of the brand representative to guide the tasting event nor to identify all the nuances of the smoke.